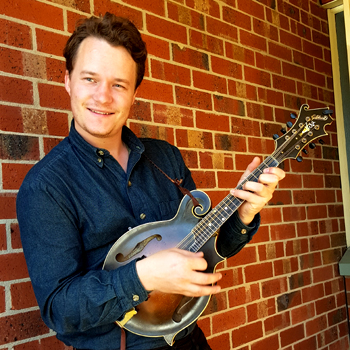 MEDIA: CLICK HERE FOR HI RES IMAGE
10 OCTOBER 2017:
For his incredible musicianship and tireless dedication to bluegrass music Thomas received a $1,500 cash grant from the Davidson Brothers' Australian Bluegrass Scholarship. The biggest part of the scholarship is Hamish and Lachlan Davidson's commitment to ongoing mentorship of scholarship recipients. Thomas also receives a beautiful trophy to commemorate his achievement.

ABOUT TOM:
Tom is a guitar and mandolin player from Essendon, Melbourne. First cultivating a passion for the music of the mountains in the suburbs initially before venturing onto adventures in regional Victoria with his bandmates The Knott Family Band, and further still with friends overseas, Tom strives to bring the old traditions to modern audiences with all the gusto he can muster. He particularly admires the music of Doc Watson, Julian Lage and Tony Rice.

PRESENTATION:
The official presentation of the Australian Bluegrass Scholarship will be at the Knott Family Band's album launch – Wednesday 11 October 2017, at Open Studio, 204 High St, Northcote (Melbourne).

Hamish and Lachlan Davidson (known best as the Davidson Brothers) established the Australian Bluegrass Scholarship in 2011 with the vision of encouraging singers and musicians who demonstrate talent, dedication and leadership in the field of bluegrass music. There are many talented artists in Australia who possess rare musical gifts, where a small nudge in the right direction may help pave the way toward their musical dreams.

Please visit us at BluegrassScholarship.com for the most up to date information.

CASH PRIZE & TROPHY: The recipient of the 2016 Australian Youth Bluegrass Scholarship will win a cash prize of $1,500 which they may wish to put toward an endeavour of their choosing: a new instrument, a recording project, a mentorship arrangement, regional touring, or flights to the USA where they can attend a number of bluegrass festivals in the heart of bluegrass country and learn as much as they can from the greats while they are there. The winner will be presented with a trophy for themselves to keep and a perpetual trophy.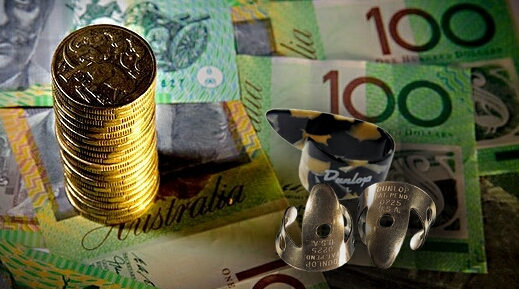 ELIGIBILITY: Eligible candidates must be Australian citizens or residents. They must either sing, or play a bluegrass instrument - Mandolin, Acoustic Guitar, Fiddle, 5-String Banjo, Dobro or Bass.

CRITERIA: We are looking for an individual who is passionate about Bluegrass music and has the potential to contribute to the growth of the genre, particularly in Australia. We also value some of the following traits and characteristics: clarity of vision, determination and dedication, skill and execution, energy and feel, creativity and originality. Please note, that once the scholarship winner is publicly announced, we are more than happy to mentor any of the applicants and guide them through the strengths and weaknesses of their applications.

12 MAY 2016:
Jeri Foreman has had a fiddle on her shoulder since she was three years old. Although a versatile musician, her passion for bluegrass is strong and she performs Australia-wide with Astro Cobalt, the Passionate Fools and the Sandy River Belles. Jeri's enthusiasm usually puts her in the middle of jams and she has been thrilled to guest with many other Australian bluegrass bands along the way.

There are a number of awards in Jeri's past. She received the Young Traditionalists Award at the Victor Harbour Folk Festival (2000 & 2001) and the Most Outstanding New or Emerging Artist/Group in the Folk Federation of SA Folk Awards (2007 & 2008). As a tune writer, Jeri was awarded the 2014 Golden Fiddle Award for Best Composition. She has been an enthusiastic member of the folk community for many years and was the Young Performers' Coordinator on the Fleurieu Folk Festival Committee (2008-2013).

Jeri is currently co-creating teaching resources, presentations and lesson plans, to introduce the teaching of bluegrass and traditional music in South Australian schools, in order to stimulate excitement and engage more young musicians for the future. On a side note, Jeri recently played fiddle at the Royal Edinburgh Military Tattoo in Melbourne.

For her passionate dedication to bluegrass music Jeri received a $1,500 cash grant from the Davidson Brothers, a beautiful trophy to keep, and a two day recording package from our friends at Pacific International Music (Hervey Bay, Queensland).

PADDY MONTGOMERY is the recipient of the 2014 Australian Youth Bluegrass Scholarship. He will receive a $1500 cash grant from the Davidson Brothers as well as a recording package from Pacific International Music.

At 25 years old, the South Australian musician has established himself firmly as one of the finest mandolin players we have ever seen in Australia. He discovered Bluegrass Music through attending many folk festivals around Australia in his teens and cites Sam Bush (USA) as his biggest inspiration on the mandolin.

When Paddy moved to Melbourne early in 2011 he was performing regularly with Mustered Courage and hosting a weekly Bluegrass jam. A truly versatile musician, he is also proficient on guitar and bouzouki. However, since dipping his toes in the big lake of bluegrass, he has really found his wings.

Paddy put his prize money toward the purchase of a resophonic guitar. After a chance opportunity to perform with Randy Kohrs on a trip to Nashville in September 2013, he became inspired to take up the instrument. The Davidson Brothers wish Paddy all the best!

CLICK HERE to listen to an audio sample from PADDY MONTGOMERY's aplication.

The Davidson Brothers and their assistant judges all agreed that Pepita Emmerichs also showed great talent and vision. Pepita earned an Honourable Mention and she received a special gift pack from us. Meanwhile, please check out her band, Oh Pep!

DANIEL WATKINS is the receipient of the 2013 Australian Youth Bluegrass Scholarship. 23 years old and raised in Newcastle NSW, Daniel is a fine instrumentalist and vocalist whose main instruments are guitar and mandolin. He cites Tony Rice, Bryan Sutton and his Dad as his biggest musical influences.

Daniel currently plays in the Melbourne-based group "Buffalo Nickel" with George Jackson and Paddy Montgomery. He used the scholarhip cash prize to travel to the USA where he attended festivals and really immersed himself in the the bluegrass scene.

Already showing excellence and dedication in the field of Bluegrass, Daniel is a very deserving recipient of the 2013 scholarship. The Davidson Brothers wish Daniel all the best!
Click HERE to listen to an audio sample of DANIEL WATKINS playing.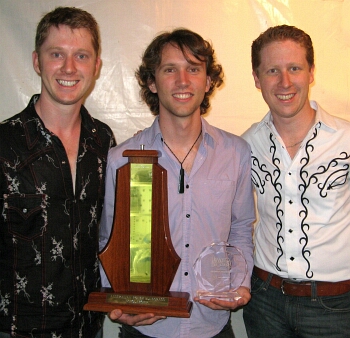 George Jackson with the Davidson Brothers
GEORGE JACKSON, aged 22, was the receipient of the innaugural Australian Youth Bluegrass Scholarship, presented in Tamworth NSW in January 2012.
"The scholarship has been a real turning point for me having allowed me to record
with the band and sending me to the US for all the inspiration." - George Jackson
George fell in love with bluegrass when he heard Bela Fleck's Drive album at the age of 14. His family moved to Queensland from New Zealand when he was 16. He has notched up 3 Australian Bluegrass Championships (2 on fiddle and 1 on banjo) as well as being awarded the FAA Young Folk Musicians Award in 2010.

George plays fiddle and banjo, and is confident across many genres, although his heart clearly lies in bluegrass. George is put his $1,500 prize money towards flights to the USA where he spent several months studying bluegrass music and immersing himself in the scene. George also made the most of the recording package generously donated by Pacific International Music. George's band, The Company, recorded four exceptional tracks, and released them on CD in August 2012.
Click HERE to listen to a sample of THE COMPANY playing "HIGH ON A HILL".
Track recorded at Pacific International Music in Hervey Bay, Queendsland.
In 2012, we also gave an honourable mention to 12 year old Taylor Pfeiffer of South Australia. She is doing incredibly well on the banjo and has a bright future in bluegrass.

Please feel free to get in touch with Hamish & Lachlan Davidson if you know of somebody deserving of this scholarship in the future. The scholarship is no longer exclusively for young people, only keen and talented people. Their postal address is: Davidson Brothers, PO Box 974, Bendigo, Victoria 3552, Australia. Please visit their official band website at davidsonbrothersband.com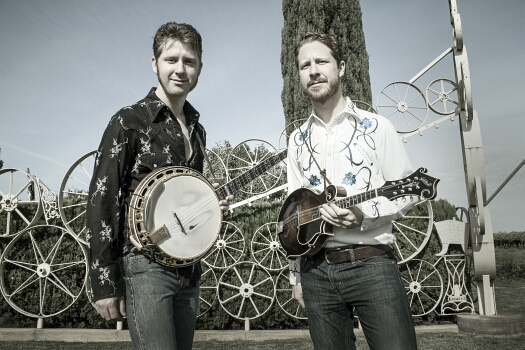 Hamish & Lachlan Davidson (photo by Robin Selick)